Merck
We aspire to be the premier research-intensive biopharmaceutical company in the world. We invent for a more hopeful tomorrow.
Be yourself and grow your career at Merck
Diversity & inclusion fuels our mission
We foster a diverse workforce where employees feel comfortable bringing their unique perspectives to work.  But diversity is only half of the story; inclusion is just as important. Inclusion means a sense of belonging. When our employees know they are crucial to our mission, not only will they thrive, but our company will, too.
League of Employees of African Descent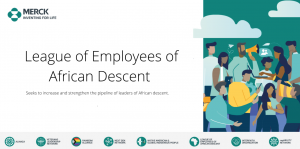 Our Employee Business Resource Groups (EBRGs) are voluntary, employee-led groups that aim to foster a diverse, inclusive work environment by supporting career development while providing culturally rele- vant insights that drive success.
We're a community of trailblazers, change-makers in talent development and inclusion, and catalysts for business insights and integration. We seek to increase and strengthen the pipeline of leaders of African descent and leverage the collective cultural understanding from members to inspire innovation and performance.
We were founded in 1970 and paved the way for the creation of our other EBRGs.
We're known for our mentoring program, intern events, and HR partnerships for recruitment and retention of Black talent.